Allan Corbett
A product designer who can code, based in Edinburgh.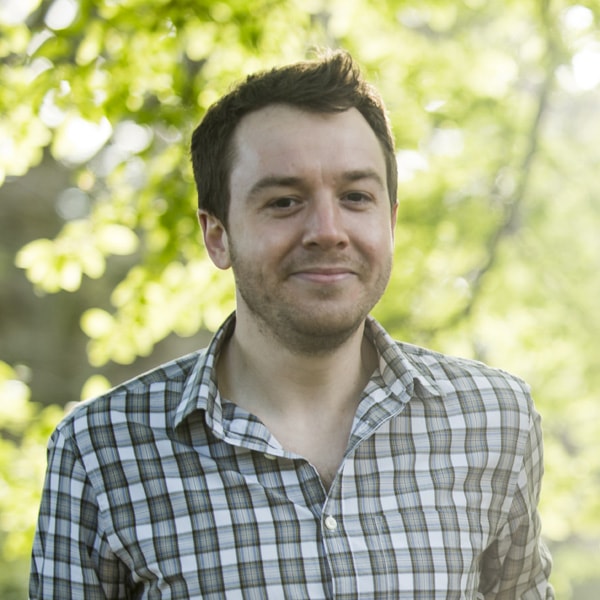 As a designer and front-end developer, I bring a creative yet pragmatic approach to creating visually stunning and user-friendly websites and applications using HTML, CSS, and JavaScript.
Collaboration is key to my design philosophy, and I thrive on the energy and creativity that comes from working with a team. In my free time, I enjoy staying active by cycling through the countryside, spending time with my dog, experimenting with new recipes, and discovering new music.
When it comes to design, I prioritize creating user experiences that are both engaging and easy to navigate, while also taking into account technical considerations and practical constraints. I understand the importance of being able to adapt to changing circumstances and requirements, and I am always willing to pivot and adjust my approach as needed.
With my technical front-end skills, creativity, and practicality, I am confident that I can bring a unique perspective and make a meaningful contribution to any team looking to create exceptional user experiences.
Overview
UI/UX Designer/Engineer at IGS building the future of agriculture
Creative Technologist at Buildit working both on and offsite with clients helping to solve hard problems and deliver world class products
Product Designer at MagLabs working on multiple web apps and products for a broad range of clients
Product Designer at GeckoLabs building a SAAS app with dedicated developers
UI Designer at RightScale within a small but global Product team
Senior Designer at Lennon Design on numerous print and digital campaigns
Set up and worked as a freelance graphic and web designer working on identity, digital and print across a wide range of clients as superallan
Graduated from Gray's School of Art in 2010 BDes Graphic Design.
Skills & Tools
Focused on usability, beauty and interaction within digital design
Expertise in front end code and building scaleable design systems
VSCode, Firefox and StackOverflow
Sketch, Illustrator and InDesign
Thrive on open discussion and constructive criticism.
History
In my role at Intelligent Growth Solutions , I collaborate closely with Product and Engineering teams to build the future of agriculture. With a strong focus on responsibility, I am involved in a wide range of activities that span product, design, and engineering.
My role is across product, design and engineering.
Help define product features and vision for a scalable future by working closely with the team to identify user needs, analyze data, and research new technologies and approaches.
Lead design of multiple apps, including creating, maintaining, and promoting Eco , a design system that ensures consistency and efficiency across all products.
Collaborate closely with developers, providing guidance on front-end development and ensuring designs are implemented accurately and efficiently.
Work with a team of developers to build and maintain apps, ensuring they are accessible, responsive, and meet the highest quality standards.
Committed to using skills and experience to create products that have a positive impact on the environment and help farmers around the world improve their yields and profitability.
As part of cross functional teams staffed with client, contracted and offshore members, Buildit help solve hard problems with world class expertise.
My role consists of a mixture of design, product and development work.
Design system thinking, prototyping as well as stakeholder management
Client reviews and buy-in across multiple levels
Collaboarating with various departments of a client's business to help provide a clear and precise direction of travel
Strategic approach to development of new features and products.
With an office in Edinburgh and London, MagLabs provide bespoke digital asset management solutions for media and packaging companies around the world, alongside a SAAS equivalent that is more generic and aimed at a broader range of clients. My role as the sole designer allows me to work as part of multiple teams of developers, account managers and product managers and I'm responsible for all user experience and interface decisions.
Some of my main tasks included:
Developing features and ideas within the business whilst listening to and understanding the user requirements
Create and manage consistent user interfaces and patterns within the multiple apps
Meet clients face-to-face to understand and empathise with their problems and create solutions that look beyond the initial issue
Work in partnership with product managers and senior developers to plan and manage workload across the teams to produce consistently high quality features.
Located in Edinburgh City Centre, GeckoLabs build recruitment and data capture services for the higher education sector including web, desktop and mobile apps for a number of use cases. As the sole designer in this organisation I am required to understand and implement existing roadmapped features as well as designing and writing specificiations that provide solutions.
Some of the main responsibilities of this role include:
Bring a consistent and clean aesthetic to the app across platforms for both recruiters and potential students
Help users understand the context of the information in a number of situations - from audio calls to event curation
Interpreting client requests to create features that are both intuitive and powerful
Allowing users to perform complex operations with large amounts of data without being overwhelmed.
Based in CodeBase, Edinburgh and working with a global team of engineering, sales and marketing staff I was initially charged with the UI design for one of the three products that RightScale creates.
As time progressed I was tasked with designing a new app to fit within the ecosystem. This needed to include the basic design templates that we had evolved towards so that the existing customers would be comfortable using it.
I also led the charge to improve the existing UI in becoming more modern and to have a less archaic aesthetic.
Crafted production ready code and design
Spearheaded a redesign of an app with over 8 years of legacy
Key member of the team working on the RightScale style guide
Worked across global timezones with multiple departments
Large and sprawling codebases were refactored under my initiative to help improve the build and release process.
Working at this compact agency I created, developed and produced numerous print and digital projects as well as delivering training and facilitating feedback sessions with clients and customers.
Some key projects are listed below:
Sacro . Designed and built the digital hub for an organisation working towards creating safer and more cohesive communities across Scotland. Worked through the project starting with the initial structural planning, production of visuals to building a fully responsive development site. Presented to multiple strategic boards within the organisation and adapted the site based on feedback and discussion. The finished site has a robust navigation that works well across all platforms and provides a quick, clean and understandable experience for a variety of demographics.
Pilton Community Health Project . Working with the project's various teams and departments I planned and built a new platform for the organisation to publish resources, events, updates and information for their service users. The fully responsive design is fresh, bright and colourful which reflects both the ethos and the mission of the organisation whilst being fast to load and quick to respond to user input.
FrinGeo . Working with a developer I designed, branded, marketed and built an HTML5 platform agnostic mobile app that used publicly available data to show the three nearest Edinburgh Free Fringe shows to the users location using their smartphones GPS.
After graduating into a massive economic black hole the only sensible thing for me to do was to set up as a freelance designer.
As superallan I worked on digital, branding and print campaigns for various smaller clients as well as helping them develop marketing strategies to support their business.
Contact
I'd love to hear from you if I think I sound interesting. I can provide work examples, references upon request.